WordPress Poll Plugins for News Portal: Do you want to increase news website traffic while collecting relevant data that could expand the business? Your response would likely be "yes." If so, consider adding a WordPress poll plugin to your news website.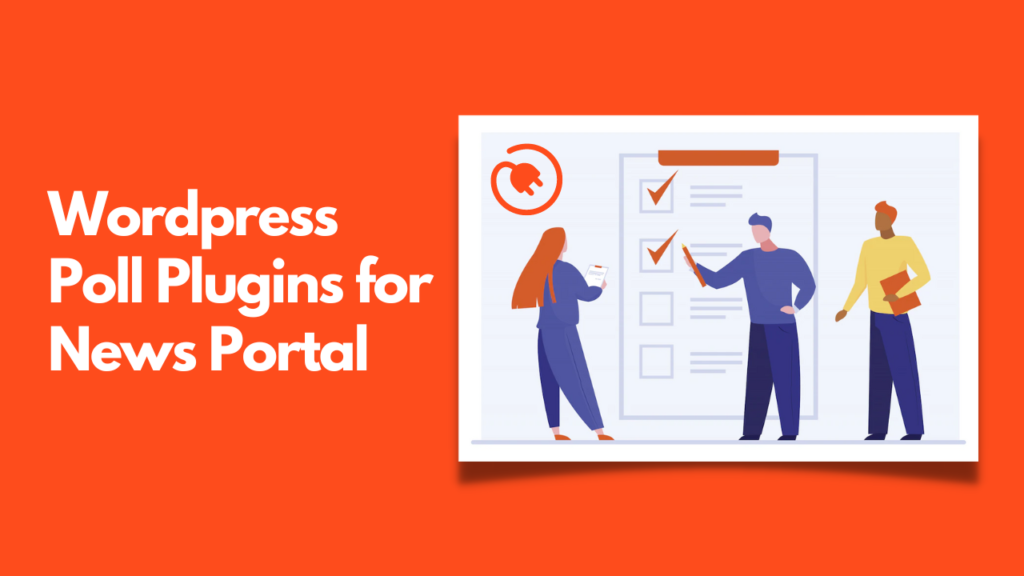 Online polls are a great way to connect with and engage your target market. Using these polls as a business owner, you can learn what your audience wants. We have compiled the top WordPress poll plugins for 2022 for you to use on your website as a starting point.
Install one of these WordPress poll plugins immediately to advance your news portal.
What Is the Purpose of a WordPress Poll Plugin?
You can create interactive surveys and polls for your news website visitors, to respond to using a poll plugin. There are many different ways to display polls, including embedding the poll questions in a web page, making a pop-up box, or adding the poll to a sidebar.
The best polling plugins let you show the results immediately so that users can compare their responses to those of other users. Many of the top picks in the news portal can be used to build different forms. These would be fantastic options for creating contact or lead capture forms.
WordPress Poll Plugins: Facts to Consider
The terms "poll" or "poll plugin" will return a tonne of results when you search for WordPress survey plugins. In this situation, selecting the best option might need to be clarified.
Therefore, when choosing a poll plugin, you must consider certain factors. While many well-known plugins that offer polling services meet these requirements, not all of them do. Therefore, it wouldn't be wise to let popularity that doesn't fit your needs impact you.
The following are the primary considerations:
Versatile and adaptable (can be added anywhere)
Easy to use
support for the use of charts, graphs, and other visual elements to display results
Speedy, responsive, and lightweight
neat and delightful design
Step for Set up The Plugin
You can set up the plugins by following the easy steps on the wordpress:
Visit the Plugins and add a new page to your WordPress admin dashboard
Locate the plugin name in the search bar
Click install now
Activate the plugin
Find the poll plugin in your plugins list. You can now create your first poll.
Best 10 WordPress Poll Plugins for News Portal
Let's explore some of the top WordPress plugins to see how they handle all these features:
1. WPForms
WPForms is the most powerful WordPress contact form plugin available. It has complete surveys and poll plugins that enable you to quickly create incredibly engaging survey forms. WPForm is available for free download. Additionally, it offers a premium version with a $39.50 – $299.50 annual price range.
The WPForms surveys and polls plugins work well with its robust conditional logic, multi-page forms, custom notifications, and email integration. More than 5 million website owners use it because of this.
Features of WPForms
Drag-and-Drop Form Builder
Intelligent Conditional Logic
Templates for Pre-Built Forms
Simple Payments
Spam Protection
Pros of WPForms
Mobile-friendly forms
Search engine friendly
Intelligent survey fields
Quick notifications
Several-page forms
File upload functionality
2. Formidable Forms
Formidable Forms is a sophisticated WordPress poll plugin that makes it simple to create polls and surveys for your business. Over 300,000 businesses have used this plugin, and it has received a whopping 94% of their satisfaction.
In addition to its features, this WordPress plugin's best quality is that it can create contact forms, reports, and anything else a drag-and-drop form builder can do. There is no trial version of Formidable Forms. Its annual licence and package fees range from $49.50 to $299.50.
Features of Formidable Forms
Drag and drop form builder without using code
Several data display options
Smart conditional logic
Polls with a progress bar on multiple pages
Before submitting, review the choice.
Popular calculator integrations
Pros of Formidable Forms
Many options for customization and features
Scalable and simple to use
Flexible options for form design and styling
3. Gravity forms
If your website utilises Gravity forms, the poll is a great addition. This add-on can seamlessly integrate with your forms to interact with users and gather and analyse data. This plugin also enables you to quickly create sophisticated polls and view the results in a matter of clicks. There is no free trial available. Prices for its licences and packages range from $59 to $259 annually.
Features of Gravity Forms
Easily Useable Visual Form Editor
30+ Form Fields That Are Ready to Use
Innovative Conditional Logic
Email Alerts
Advanced Spam Protection
Pros of Gravity Forms
Simple-to-use plugin
There is a drag-and-drop form editor.
You can set up your form using conditional logic.
To ensure the poll's integrity, limit the number of responses per visitor.
Mobile-friendly – designed to look good on a wide range of mobile devices.
Combat spam with Google reCaptcha, Really Simple Captcha, and Akismet.
Endless integration options
4. TotalPoll Pro
TotalPoll Pro is another potent and premium WordPress poll plugin that provides you with all the tools you need to design and build polls for your business. This plugin has over 8000 sales and a 4.4 out of 5-star rating on the Envato market, making it one of the best-selling WordPress poll plugins. The plugin is available in a free version. In contrast, licence and package prices begin at $79.00 per user per year.
Features of TotalPoll Pro
user friendly
Drag and drop
Mobile-friendly responsive design
SEO friendly
Easy data gathering and browsing
Pros of TotalPoll Pro
Multiple built-in features provide limitless possibilities.
Design flexibility
Built with familiar APIs.
GDPR Compliant
Quick customer service
5. YOP Poll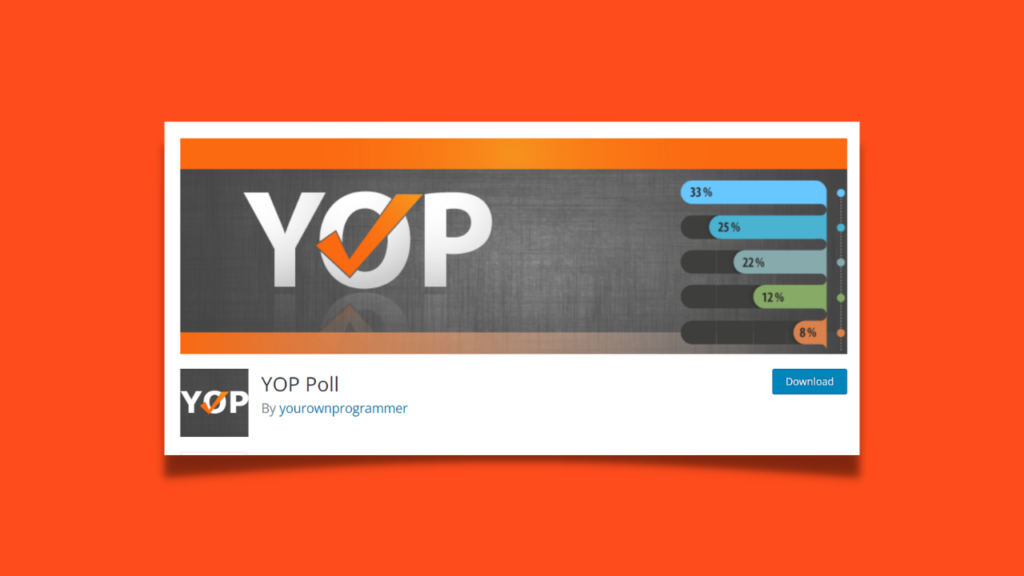 Another WordPress plugin making headlines this year as one of the best WordPress Poll Plugins is YOP POLL. With a feature for autonomous poll scheduling, this plugin's interface is clear and straightforward. The YOP poll also supports voting restrictions for non-registered users and particular usernames or IP addresses. You can download YOP Poll without charge. The cost of the pro version, which is only available for one-time purchases, ranges from $17 to $57.
Features of YOP POLL
30+ unique starter templates
Images and video poll responses
Personalised text blocks
Facebook and Google login integration
Fingerprint voting
Countdown timer
Pros of YOP POLL
Poll restriction and security
Can create an unlimited number of polls
Public poll statistics
Displays results in real-time
GDPR and CCPA Compliant
6. TS Poll
It is a responsive and fast poll plugin for WordPress. This plugin is responsive for desktop users in general and mobile users in particular, as the name would imply. Aside from text polls, this plugin allows users to create video and image polls, which is fantastic. The responsive poll plugin deserves its place on this year's list of the best WordPress poll plugins due to its add-ons and simplicity.
Features of TS Poll
Fully responsive
customizable WordPress Survey Plugin
It provides three layers of security
Built using Twitter Bootstrap 3
Easy to install and use
Pros of TS Poll
Ability to add images, and videos (YouTube & Vimeo) to its Poll
Easy website integration
Drag and drop sorting
Show results after voting or no
Define start and end date
7. Modal Survey
One of the poll plugins for WordPress that has received the most positive reviews is Modal Survey. Nearly 5,000 sales have yielded a stellar 4.79 out of 5-star rating for this plugin. The top-rated WordPress survey plugin is Modal Survey, according to Envato's CodeCanyon. Modal Survey will allow you to hear your visitor's opinions through its eye-catching polls and gratitude for its magnificent themes and elegant designs.
Features of Modal Survey
Visual poll builder with live preview
Different poll styles
Parallax effect on the polls while scrolling pages
Option to set start and expiry time for each questionnaire
Unlimited questions and answers
Pros of Modal Survey
Affordable premium plans
Numerous customization options
Minimalistic and responsive design
8. CrowdSignal 
CrowdSignal, formerly known as Polldaddy, is one of the best WordPress poll plugins on the list because of its extensive set of features and settings. It is a one-of-a-kind poll and survey plugin that is not a contact form plugin and is only designed for polls and surveys. Famous companies like FedEx, PayPal, Cisco, and Thomson Reuters also use this straightforward, quick, and effective poll plugin.
Features of CrowdSignal
Advanced Drag-and-Drop Builder
Highly Customizable Features
Limit Double Voting and Spam
Full Control Over Analysis and Data
Share and Embed Your Surveys Anywhere
Pros of CrowdSignal
Add custom styles to match your brand (use of CSS)
Watch results in real-time
Unlimited surveys and quizzes
May add photos, videos, and audio to your poll
Captcha protection to block and prevent spamming
24/7 customer support
9. Democracy Poll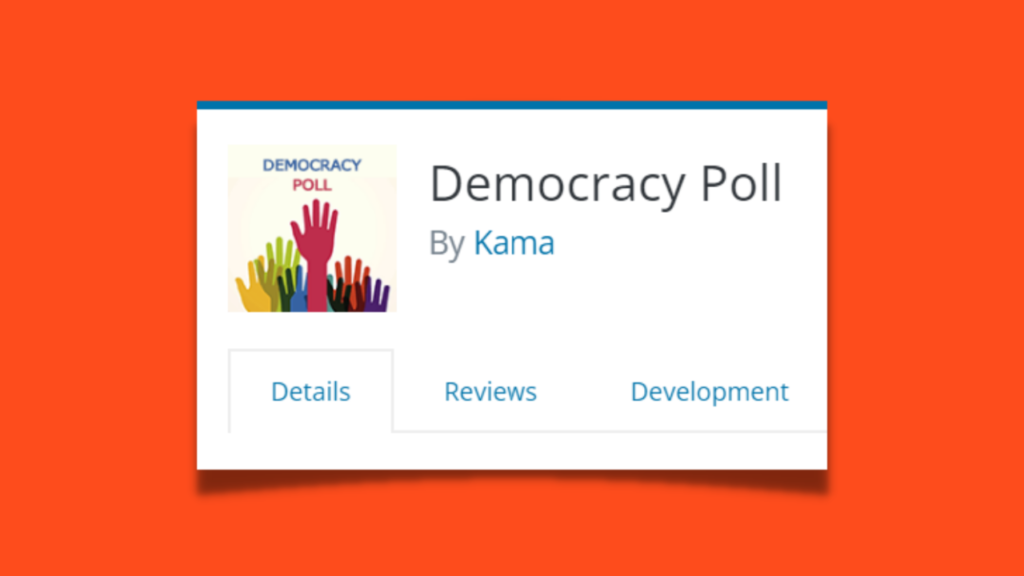 Democracy Poll allows users to collect customer feedback on any website page. Users can add their design or logo, choose their language, and pick and choose which questions and scoring options to use. They can also turn on and off write-in responses. When feedback is collected, it will be available on the dashboard immediately. Users can also receive feedback alerts directly to their email inboxes.
Features of Democracy Poll
Ability to set poll's start and end date
Works with cache plugins
Customizable CSS themes
Pros of Democracy Poll
Visitors can add new answers
Single and Multiple voting
Easy-admin features
Fast performance
10. Getsitecontrol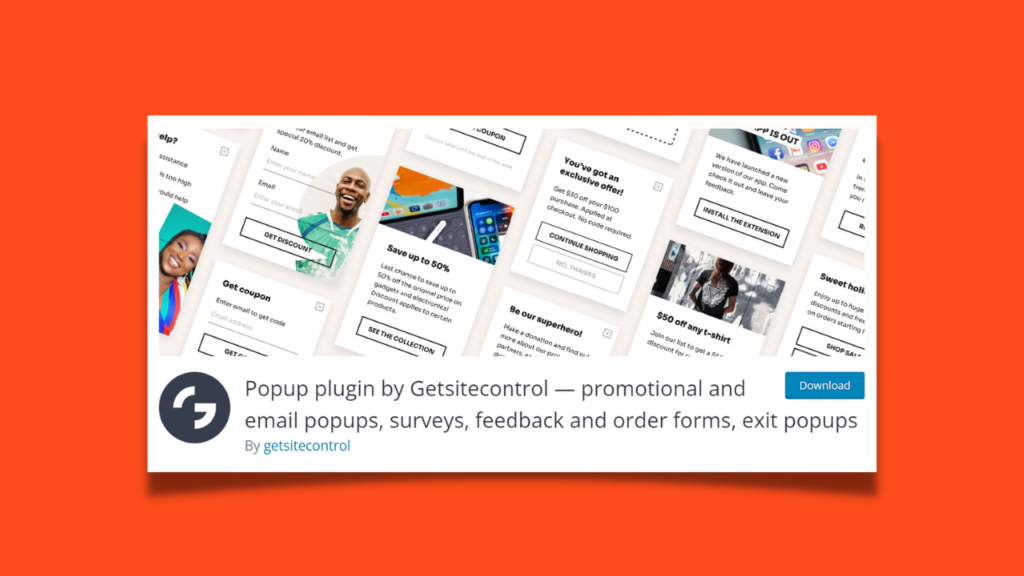 Getsitecontrol is a user-friendly popup and survey plugin. It has a fully functional form builder that enables you to create any form, including order forms, questionnaires, and survey forms.
Getsitecontrol allows you to follow the results of your surveys in real-time. The dashboard makes it simple to access the survey results and export them to other programmes. You can also turn on notifications to monitor every view, click, and submission.
Features of Getsitecontrol
Multiple Form Types
Track Real-Time Results
Full-Featured Form Builder
Mobile Responsiveness
Multiple Sharing Options
Pros of Getsitecontrol
Mobile popups
Easy-to-use interface
Direct links to widgets
Conclusion
Any website should have the WordPress poll plugin. Unfortunately, only some poll plugins available will live up to your expectations. To meet your needs, each poll plugin on this detailed article's list incorporates top-notch features and functionality. You can contact the 7k Network for news portal development services.