We are the most affordable
Social Media Marketing


For News Publishers
Social media has emerged as a source of information and knowledge about everything. In past recent years, it is offering news of different sectors in just a few clicks. Everything we want to know is just a matter of a click. Now, social media and news go hand in hand. 
There is a major part of the population who are captivating daily news from social media. It can be seen that social media for the news industry is flattering.

Result-oriented Strategy
Our social media marketing team focuses on making a strategy that prospers quality results. We believe in bringing the best outcome for our clients.

Reasonable Packages
We don't offer a value that doesn't progress your growth. Instead, we offer you reasonable and affordable packages of social media management services.

98% Success Rate
Our previous clients are the best example of showing our success rate in bringing every news to social media. We believe in giving 100% results, that is why we always land up very near to that with a 98% success rate. 
Using social media for sharing news
Social media is both creator and a source of news. It shares the news as well as creates the news, which is in itself multitasking. Social media somewhere has given people a right to speech, where people can raise voice, spread awareness, and stand against the wrong. 
The right to speech on social media is bringing a lot of news from around the world, which is mostly skipped while news telecasting. But social media doesn't skip anything. It brings us every news on which we have a right to know. 
While social media is expanding the sources of news, it is also becoming hard to choose the right information. We know, not everything which is being shared on social media, is true. There are gaps, where lies the false information or sometimes misleading, too. 
But there is a voracious news portal that offers accurate news and everything going around the world. For them, social media marketing plays an important part in reaching many people at once. We work for such a news portal for bringing their value in front of their readers. We apply all the social media marketing tactics to engage their audience. 
We at 7Knetwork offer social media marketing services for news portals, including every kind of social media service, from Facebook marketing to YouTube marketing. We are seamlessly working towards the popularity of news portals on social media sites. 
Professional services for your social media
Social media management

– We offer 

social media management services

 where we handle all the social media accounts you have. Our team at 7Knetwork manages your social media handles, from managing likes to followers. Everything is in our hands and we do it in a very fine way.

 

Set-up & custom profile design

– We have a team of graphic designers at 7Knetwork who can create custom designs for your news portal with fine arts. We set up your profile which talks about your news portal and what value your channel adds to your audience's lives. That's what grabs the attention of the targeted audience.

 

Social media promotion

– Without the promotion on social media about your news portal, social media marketing is incomplete. We promote your news portal and posts related to the news portal on social media to engage more people. Promotion on social media is an eminent part of 

social media marketing services

. Also, the promotion of social media accounts is important it brings us the audience we want. So, we focus on doing every promotion with quality results.

 

Specific audience targeting

– Do you know social media is the best way of targeting a specific audience? We know how to do it. Our team at 7Knetwork asks you about the audience you want to target. Then, we target that particular audience by regulating a few settings on your social media handles.

 

Increased profitability

– When the audience engaged in your social media handles, it automatically increases the rate of profit. We engage more and more traffic through 

social media marketing services

 into your news portal. It results in increasing your profitability rate. Our team never forgets to bring quality results to your news industry. 
Get Free Consultation Now!
Take a chance on us, don't wait and book a free consultation call. There is nothing to lose, only a chance of getting closure to make your news industry a big hit.
Best Uses of social media Advertising in
News Promotion
Social media advertising is one of the social media marketing strategies, which is used to target social media users. Social media advertising has been seen as an impactful tool to convert more sales at a lower cost. For promoting news, social media advertising is an influential way of bringing an audience. 
We at 7Knetwork offers social media advertising on the best social media networks. Our team understands the importance of social media advertising for news portal and work towards that. 
Let's understand, how social media advertising results in better engagement?
It lets you target a specific audience– You know, we can target the specific audience through social media marketing. And social media advertising is the best way of targeting a specific audience. 
The advertisement makes it easier to grow an audience– Growing on the social media platform is important but not easy. A lot of people doing a lot of things, but not getting a lot of results. But social media ads can let you grow your business. 
Ads prevail over organic growth– With the rising pace of digital marketing and changes google is bringing each day, advertisement is ruling the internet. The posts on social media with the highest results would be the result of social media advertisements. Organic growth is going slow with the introduction of social media advertisements. It works but not with the speed of advertisement. 
That is why social media advertising is the new and effective tool for bringing huge traffic to the news portal.
There are Four best social media platforms for social media advertising. These platforms are bringing the most results and also are very effective for news promotion. There are innumerable social media sites but not every platform brings higher results. So, it would be beneficial to start with popular social media platforms which have a huge audience. 
Before understanding how social media platforms procure more results, we first need to understand what basis we should choose a social media platform. So, here are the following points;
A perfect social media platform would be that, where the most of audience is present
Next, where most of your target audience is engaged
Last, where the target audience is most concentrated
These are the three points that must be ensured before choosing a platform to produce social media advertisements.
Now Let's understand, how following social media platforms have done social media advertising?
Facebook Advertising– Facebook advertising is the most prominent way of engaging more people to your news portal. Our team has expertise in Facebook advertising, which results in higher lead generation i.e more audience. We use different tactics under Facebook advertising like ads to generate awareness among people about your news portal, use emojis to grab attention, use different and unique ads for a different audience, etc. 
Twitter advertising– Twitter is the main source of generating most of the news from around the world. We at 7Knetwork offer Twitter advertising where we advertise the news in different ways. Such as, using compelling images so that people click on them, be very particular about whom to target, uses brief content to summarize news, etc. It works well.
Instagram advertising– Instagram is becoming the most used social media platform for the news industry after Facebook and Twitter. Most people consume news from Instagram daily. This is what makes us use Instagram advertising for news portals. We use Instagram advertising through posts, videos, and stories to target a specific audience. We focus on a specific audience, use custom images and posts for advertisement, and seriously use hashtags. 
LinkedIn Advertising– LinkedIn is another engaging social media platform where generally professionals are engaged. We focus on LinkedIn advertising for targeting the businesses to reach out to your news portal for daily business-related news. We use short and crispy ad copy, and we focus on sharing professional challenges. 
These are the main social media platforms emerging through social media marketing services for engaging more audiences through social media advertising. This is how you can reach out to more people through one or two advertisements only.
Facebook is the backbone of social media marketing. There are millions of people using Facebook daily for numerous purposes. This fact is helping businesses to expand their customer base through Facebook marketing. The news industry is one of such industries, which is using Facebook marketing for a news channel to attain the most of the audience.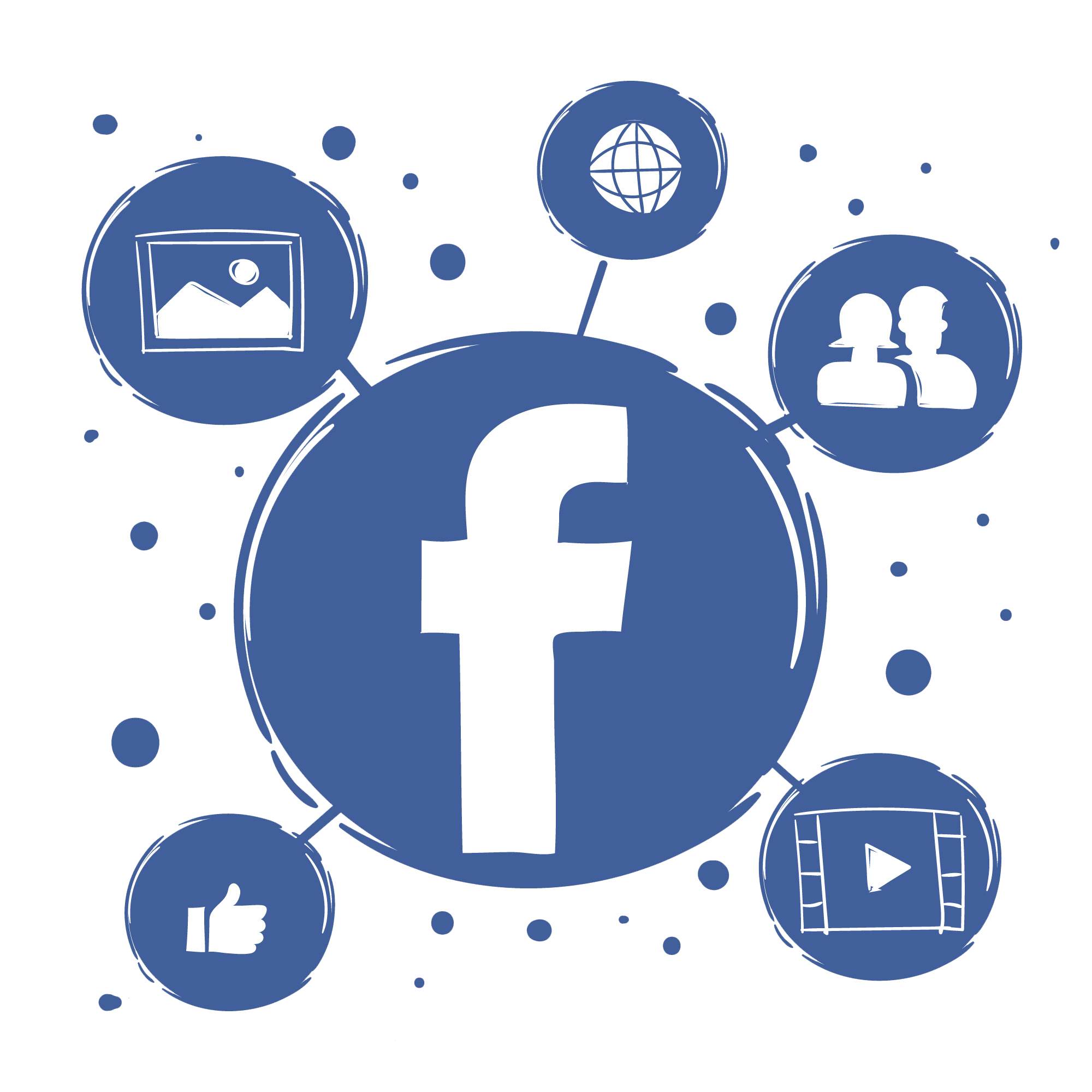 Following are the services we provide under Facebook Marketing;
Page likes– Page likes are a way of knowing how your business is being perceived by the audience. We provide relevant and enlightening content for our clients to their audience. That results in increasing the page likes. Our team focus on the quality of content than the quantity of content.
Groups sharing system– A group sharing system is a way of targeting a specific group of audiences whose interests are the same. We share the posts which can target a specific group of people to that specific group on Facebook, instead of posting it on a timeline. It made it easy for those people to reach you directly without missing any post on the timeline. 
Instant article approval– This instant article approval service is given to publishers to share fast-loading articles on Facebook. It is a mobile-optimized format. Our team knows how to do it with ease to grab the attention of a lot of people. Today, people are always in a hurry which makes this service more eminent. 
Facebook ad break approve– Facebook ad break allows your video content to be broke upon shot clips. It makes your video ad content eligible for natural breaks. We offer the Facebook ad break services to our clients which monetize their Facebook. It appears during the video in the form of short ads
Frame for Facebook– We design different unique and eye-catching Facebook frames for our client's Facebook handle. The Facebook frames are used by the Facebook users to share their feelings or their life statuses on those frames. We create attractive frames for news portal which depicts their background. 
Facebook Automation– Facebook automation is a way of letting your audience take an action on Facebook automated ads. We offer Facebook automated ad services to accomplish your business goals. Our team knows the best how your audience can take an action on your website or getting the attention of the targeted audience. 

Facebook is the backbone of social media marketing. There are millions of people using Facebook daily for numerous purposes. This fact is helping businesses to expand their customer base through Facebook marketing. The news industry is one of such industries, which is using Facebook marketing for a news channel to attain the most of the audience. 
YouTube is all about videos. Videos are the new thing trending in the market. Very few people prefer to read whereas everyone else just loves to watch. It creates opportunities for those who create video content in the market. Similarly, the news industry is also captivated by this fact and there is a lot of news channel that is sharing news through short and long videos. To gain the market share on YouTube, you would require YouTube marketing for your news portal. For that, we at 7Knetwork offer numerous YouTube marketing services.
Below Are the Services We Provide under YouTube Marketing;
YouTube Bumper kit– Bumper kit is a short video that leads us to reach more audiences and briefly increase brand awareness. We offer YouTube bumper ads services to our clients to create awareness about their brands. Those short clips are the best way to generate an idea about your brand in the minds of your audience because they are non-skippable. 
YouTube monetization– YouTube monetization is a way of placing an ad in front of a person during a video. If the viewer watches the whole ad, the news channel gets paid. The place of the ads is not fixed, they can be placed at any time. Our team knows the importance of placing an ad in front of your audience and always ensure that it gets noticed at once. 
YouTube subscriber– YouTube subscribers are the eminent part of a YouTube channel. A subscriber is someone who is following your channel and every content you are sharing. A subscriber helps a YouTube channel to gain most of the popularity. Our team of social media marketing offers services that can increase your subscribers with few YouTube marketing tactics.
YouTube studio set-up– A YouTube studio helps a news channel in setting up a studio to manage the channel, organize content, and interact with the audience. There has to be some sort of settings that must be done to keep the channel updated. Our team of young professionals does every setting in YouTube studio to make the channel work better. 
YouTube Live Telecasting– YouTube has been emerging every day. It is introducing a lot of news things almost daily. Live telecasting or live streaming is one of such things which YouTube has introduced not very long ago. Yet it is helping in YouTube marketing. YouTube live streaming includes a few things which must be considered before starting alive. Our team would ask you to make a goal, choose the right time to go live, promote the event, optimize your set-up, etc. All these things would make life successful.
YouTube video editing– Video editing cannot be a straightforward game. It takes a lot of work, time, and innumerable efforts. Our professional social media marketing team knows the advanced feature of video editing tools on YouTube. It helps a news video to be perfect in front of its audience. Video marketing is the most important task in YouTube marketing for news portals. 
YouTube video frame– A Video is a series of frames which viewed in order and a motion. Frame refers to framing a time at what speed the videos must be moved. That means, which scene must be fast, which must be slow, and which must be emphasized more, all of it comes under YouTube video framing. We at 7Knetwork offer YouTube framing services where we can trick your audience into smooth motion.
Twitter has been a great source of information about every field that exists. Especially, it has been spreading every kind of news regarding every matter within or outside the country. So, there would not be anything wrong to say that Twitter marketing is very influential for the news industry. It can change the picture of the news portal if it has been done in the right way.
Through twitter marketing, a news portal can reach a large audience around the world. Every news channel is marketing on Twitter. If you want to join the race then don't wait. We offer the best Twitter marketing services at affordable prices. We have a social media marketing team that indulges in quality Twitter marketing services.
Key
Benefits

of Choosing

Our Services

Social Media Audit
Before going ahead with social media marketing, our team does an audit of your news channel. We optimize and evaluate your all social media handles. It helps us to give our clients better exposure to the market. Because we determine what works for you and act accordingly.

Competitive analyses
We understand the importance of competition in the market. So, we analyze the competition in the market among the news industry to work on social media marketing strategies better. We dig deep to see where most of the things are inclining so that we can move in that direction for your news portal. 

Social Media Activation
Social media activation is the major service we provide where the followers take action on everything you share. They participate in activities you hold such as content, brand awareness, etc.

Social Media Monitoring
Our social media team monitors the performance of news portals in the market. It is done in the form of tracking down the social mentions by readers, prospects, other brands, and competitors in the market. We give our clients an insight into what is being said about them in the market among their news consumers. Then, we make more social media marketing strategies accordingly.

Social Influencer Management
As a social media marketer, our efforts are to manage the relationships with social media influencers. We know how social media influencers are an important part of social media. So, we try to build a relationship between your brand and them. From managing collaboration, negotiation, content creation, campaign management, payments, etc. We build a long-term relationship with influencers so that they can help your news career
Why choose 7K network for the Social media services?
Frequently Asked Questions