Different courses available to become a journalist?: Do you enjoy writing? Do you want to work as a news reporter? Have you always found the news and magazine industries to be fascinating? Journalism is sharing information via various forms of mass media, including television, radio, newspapers, etc.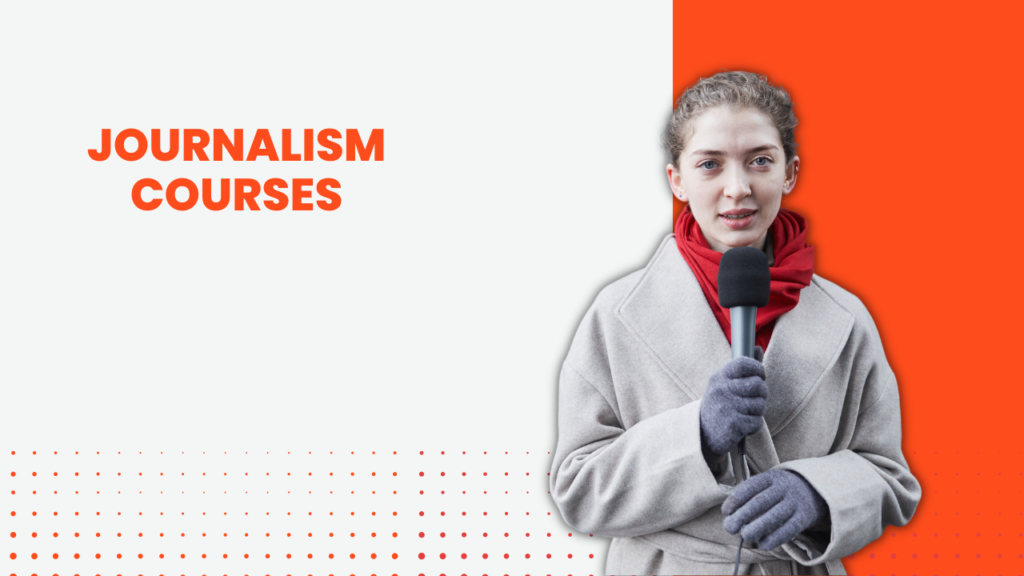 The digital era has arrived, and traditional media companies are being pushed to go online and generate revenue on their digital platforms. It is where a plethora of opportunities for journalists emerge.
Who is a Journalist?
A journalist is a person who gathers data in the form of text, audio, or pictures, edits it into newsworthy form, and then releases it to the public. They are writers and reporters who cover a wide range of subjects, from social issues and politics to sports and entertainment, and aim to inform the public about current events and topics and how they affect their lives.
What does a Journalist do?
Journalists work for newspapers, news portal websites, magazines, and other forms of media to disseminate interesting nonfiction writing to their communities. After coming up with story ideas, they gather information and fact-check it before pitching it to an editor. They may write about critical political issues, local news, or amusing features.
Journalists can research by reading other articles or gathering primary sources.
They cultivate relationships with various community sources and media contacts to ensure a proper flow of information.
They structure their thoughts and write persuasively to turn an idea into a finished piece.
Is Journalism a Good Profession?
It's a great profession, especially for those who enjoy trying something new daily! If you are determined and want to live an exciting life, become a journalist and make it your profession. After some time in this line of work, you'll feel content, famous, and in a very high position. You could pursue careers as a special reporter, editor, feature writer, and more.
Different courses avaible to become a journalist?
Top Journalism Courses After 12th you Should Know
Numerous bachelor's degrees, diplomas, and certificate courses are available worldwide for those interested in pursuing a career in journalism. Here is a comprehensive list of undergraduate journalism courses available after the 12th grade:
| | |
| --- | --- |
| Course | Duration |
| Bachelor in Journalism and Mass Communication | 3 Years |
| Bachelor of Journalism | 3 Years |
| BA in Mass Media | 3-4 Years |
| BA in Journalism | 3 Years |
| BA in Convergent Journalism | 3 Years |
| Bachelors in Sports Journalism | 3 Years |
| BA Journalism & Communication | 3 Years |
Let's take a closer look at some of the most popular Journalism courses after 12th grade:
Bachelor's Degree in Sports Journalism
If you enjoy watching sports and want to work in journalism, this course is ideal for you. You will have the opportunity to provide sports information. Additionally, you'll discover how to write news stories for print and online publications. Sports journalism is an excellent career path for sports fans who enjoy reporting or writing.
Bachelors in Journalism and Communication
This degree will prepare you for various careers in journalism, such as feature writers, editors, television reporters, and presenters. Your understanding of how to use multiple multimedia platforms for content delivery and presentation will be helped by this degree. It also aids in your understanding of the fundamentals of filmmaking, editing, and interviewing. You will learn about the components, values, and other aspects of a career in journalism in this course.
Bachelors in Journalism
You will learn various modern multimedia skills in this course and more traditional knowledge of all the components of journalism. This degree will assist you in developing skills such as data searching, data collection, and information presentation effectively and creatively. In addition to providing you with theoretical knowledge about media history, economics, and ethics, this course will also introduce you to the expert aspects of journalism.
Journalism Career Opportunities
When you finish a journalism course, you'll know the fundamentals of how various mass media operate and the nuances of reporting, broadcast production, radio production, and filmmaking. Graduates from any of the courses in journalism mentioned above can select from a wide range of careers after completing their 12th-grade education, including TV production, News production, Filmmaking, Photojournalism, Sports Journalism, etc.
News Reporter
TV Correspondent/Special Reporter
Feature Writer
Editor
Copywriter
Photojournalist
Cartoonist
Channel Producer
Radio Jockey
Documentary Filmmaker
Salary
Fresh graduates with a degree in Journalism or Mass Communication can expect to earn an average salary of 2 Lakhs to 4 Lakhs per annum in India. You can start looking into higher-level media opportunities as you gain more experience, and you can earn more than 5 lakhs annually.
Top 5 Journalist Skills for a Successful Career
You'll need to develop a few specific skills if you want to become a prosperous journalist with a promising future. The top 8 journalistic skills you'll need to succeed in your career will be revealed in this section.
Writing Skills
One of the key skills for journalists is writing. A journalist must report on stories and produce written content for publications, whether broadcast on television or digital media. A practical and flawless writing style must always come naturally to a journalist. A journalist must write in a way that is both concise and detailed.
Grasping Power
A journalist needs to be able to pick up new information quickly, process it in a way that ensures accurate dissemination, and learn on the job. Broadcast journalists are expected to quickly learn a variety of new skills and reproduce that material for viewers to consume. You must understand how to use online platforms effectively if you want to work as a reporter for an online news portal.
Skills Development
A journalist must also have a wide range of interpersonal and soft skills. He must be able to function under pressure. A journalist's temperament should also be politically acceptable, curious, enthusiastic, and skeptical. In order to develop all necessary journalistic skills, enrolling in a college that encourages holistic skill development is crucial.
Problem-Solving Skills
A great broadcast journalist can handle common issues or difficulties at work, on location, or during a panel discussion or live show. You must be able to think quickly under pressure and come up with the best solution for any issue that may come up at work.
Communication Skills
Communication is essential in all aspects of journalism, whether one wants to work as a crime reporter or a celebrity interviewer. A successful journalist possesses a wide range of abilities.
Being both empathic and focused
Being polite and approachable to get the necessary information
Persuading audiences with facts
FAQs
What subjects are required for journalism?
After passing their 10+2 exams, candidates from any discipline can pursue journalism courses. However, some journalism courses are only available after passing an entrance exam.
What are the requirements for Journalism Courses?
Candidates must have earned at least a 50% grade point average in their 10+2 to enroll in a journalism program. After any stream, they can pursue journalism courses.
Is journalism a well-paid profession?
A career in journalism pays well. An entry-level journalist can expect to make between INR 3 and 3.5 LPA. A candidate's salary rises as their experience and expertise grow.