In today's hectic world, reading the newspaper has become one of the traditional ways of getting the news. The news is constantly being updated and disseminated via television, radio, and the internet by the time the next morning rolls around. Publishers of newspapers and magazines need help to keep up with the pace. Publishers must accept mobile and adapt to change.
As a result, readers of magazines and newspapers are shifting to reading news on their smartphones and tablets. Online apps have a very straightforward and lucrative business model. In this article, you will learn about the important features that should be added to the news application.
Why have News Apps?
News apps provide quick access to a variety of information. The ease of scrolling through the news on your smartphone is much better than buying a newspaper and cluttering up your bag or office desk. Furthermore, news apps help to save trees.
A mobile application has many advantages for companies that publish news. Adopting a mobile-driven strategy will greatly increase your audience reach, especially with the younger demographic. Additionally, news apps encourage older adults to focus more on their mobile devices. The larger the audience, the greater the revenue.
Top Features of a Good News App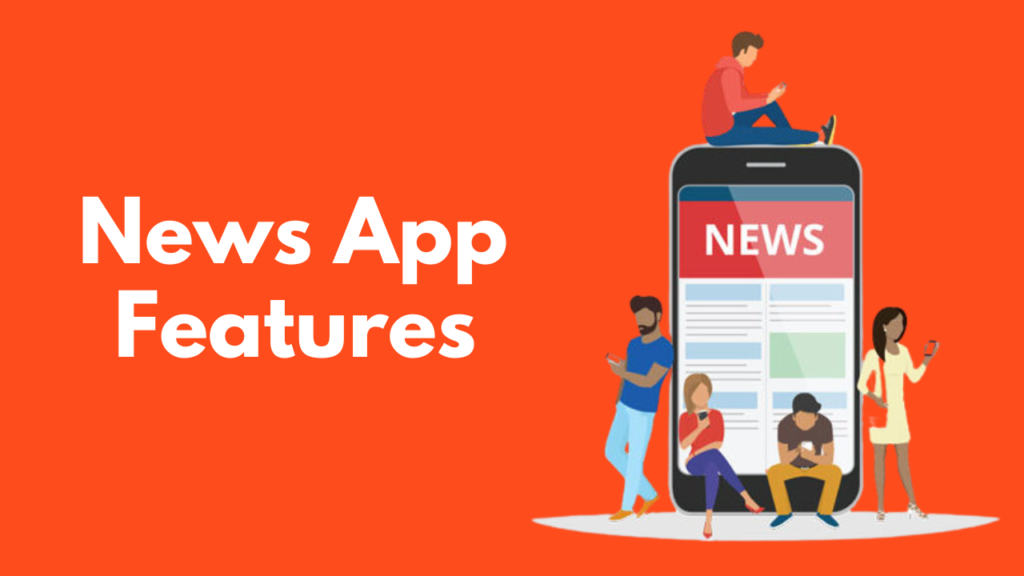 Mobile apps, whether textual or audio-visual, have changed how people consume daily news. The majority of people anticipate user-friendly, dynamic, and trustworthy news apps.
You should consider some novel features that set your application apart from your rivals to establish a strong competitive advantage. These are the essential elements that the top news app developers include in their applications:
Categories
In general, news applications update the news almost every minute. In this never-ending news flow, the user must always be able to view the information that piques his interest at the time. It is critical to consider sorting news using categories and tags.
In order to ensure that everything functions as expected and that news or articles don't appear in the incorrect categories, it is equally important to test these sorting algorithms in the final product.
Search and Filters
After adding categories and tags to the application to make it more user-friendly, keep going. Almost all reliable news apps and websites have search and filtering features that let users look for information that interests them based on predetermined criteria and parameters.
Push Notifications
Push Notifications are designed to grab users' attention using alerts, even for a brief moment. You must have a valid reason before diverting someone's attention. The news app practically requires push notifications, even though they tend to enhance almost every modern app. Your users would want to get all the most recent news.
Engagement Tools
It only takes a few simple steps to add a commenting system so that readers can discuss the news on news resources like websites and apps. However, remember that many users can be obnoxious or cruel, so it is important to consider algorithms that will allow you to block spam and offensive comments.
Allowing users to log in via social networks to leave comments or using pre-made solutions from third parties are the two most popular solutions to this issue.
Social Media Integration
Social networks must be considered part of a news application's features beyond allowing comments. Social media is one of the most important marketing channels for news resources, just like many other businesses. Accordingly, it naturally boosts engagement on your app when users share their favorite news or articles on social media. You can also get free traffic and organic advertising from it.
Registration and Personal Profiles
You can include a registration option for your users in the application, social networks, and other third-party integrations. You can only expect users to complete time-consuming registration forms if their time is valuable. As a result, it is preferable to confine yourself to the unavoidable fields. Additionally, users can sign up using their Google, Apple, and social network accounts.
The ability to register eliminates unwanted and anonymous comments and enables you to understand your audience better and pave the way for our next incredible invention, a customized feed.
Personalized Feed
The use of categories and filters makes a news resource easier due to the abundance of news in the modern world. However, there are more practical options now, and the personal feed is one of them. A user can more easily access pertinent news with such a solution, which is very practical.
Every time a user logs into the application, he doesn't have to configure his news feed or conduct a separate search for any news items of interest, thanks to a personal feed feature. You can create personalized user experiences with the aid of machine learning technology.
Conclusion
News apps provide real-time information that spreads globally at breakneck speed. It is the reason why these apps are becoming more and more popular and in demand.
Consider the above features if you are looking for a news app development service. They will assist you in standing out from the competition and making a statement in the market. You can also connect to the 7k network to get the best news development services and get all these features in your news application.